A Guaranteed Asset Protection (GAP) Waiver is designed to reduce or even eliminate amounts remaining on your loan after your vehicle is stolen or is declared a total loss.
When a vehicle is declared a total loss, due to theft or accident, the primary automobile insurance will typically pay the actual cash value of the vehicle at the time of loss. This amount can be less than the outstanding balance on the loan. The difference between the amount paid by the insurer and the remaining balance on the loan is often referred to as the "gap." The owner of the vehicle remains responsible for paying these amounts to the lender.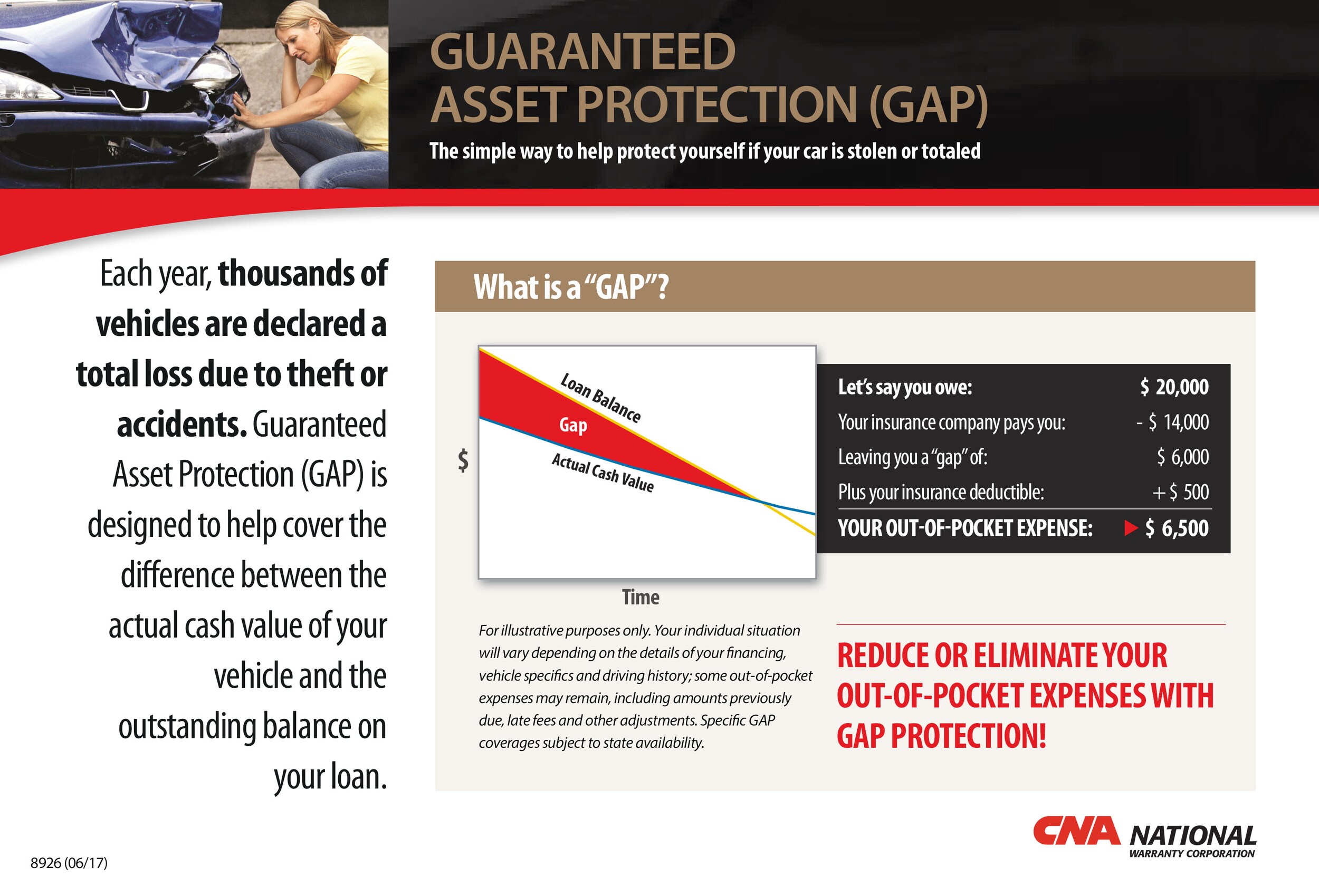 GAP Waivers can help limit this financial obligation by waiving some or all of what is owed, excluding certain items such as past due payment amounts and late fees. GAP Waivers even include coverage for some insurance deductibles up to $1,000.
GAP Waivers are offered as an addendum to your auto loan so must be purchased during the financing transaction.
Coverage Overview:
Available for New and Used vehicles
Can be financed on loans up to 84 months
Can be financed on loans up to 150 percent of the MSRP (New Vehicles) or NADA retail value (Used Vehicles)
Available for vehicles with a retail sales value up to $100,000
Who needs GAP coverage:
As an example, let's say you owe $20,000 towards your vehicle loan when your car is declared a total loss.
Your primary insurance company calculates the actual cash value of your stolen/damaged vehicle just before the total loss at $14,000.
This leaves a remaining balance, or "gap," of $6,000.
Your primary insurance deductible is $500, so your insurance company makes a payment of $13,500.
You still owe your lender $6,500.
A GAP Waiver addendum can reduce this amount to zero presuming you have made all of your payments on time!